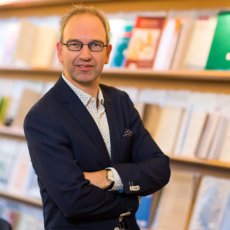 Prof.dr. P.H. Vos
Bijzonder hoogleraar en Universitair Hoofddocent
Curriculum vitae prof. dr. P.H. Vos 
Personalia
Born: Terneuzen, May 8, 1970
Nationality: Dutch
Married to Trijnie Koorn, 3 children
Appointments
2019-now    Professor of Military Chaplaincy at Protestant Theological University, Groningen
2019-now    Associate Professor of Ethics at Protestant Theological University, Amsterdam
2010-2019   Assistant Professor of Ethics at Protestant Theological University
2006-2012   Lector Moral Education at Reformed University of Applied Sciences Zwolle (now VIAA)
2008-2010   Associate researcher at Centrum voor Ethiek (Centre of Ethics), Radboud University Nijmegen
2002-2009   Teacher trainer in philosophical and theological disciplines at Reformed University of Applied Sciences Zwolle (now VIAA)
1997-2001   PhD-researcher (aio) at Theological University Kampen (now PThU)
1998-2000   Volunteer work Aid to Victims (Slachtofferhulp), Zwolle
1992-1996   Correspondent Newspaper Nederlands Dagblad
Education
2002            PhD (cum laude) from the Theological University Kampen on the dissertation 'De troost van het ogenblik. Kierkegaard over God en het lijden' (The Solace of the Moment. Kierkegaard on God and Suffering). 
1997-2001   PhD education NOSTER (Netherlands School for Advanced Studies in Theology and Religion)
1999            Summer fellowship at the Hong Kierkegaard Library St.Olaf, Minnesota USA
1989-1997  Theology ('doctoraal') at Theological University Kampen (both 'Broederweg' and 'Koornmarkt').
1988-1989  Classical Greek at Theological University Kampen 
1982-1988  High school Zeldenrustcollege, Terneuzen 
Additional Training
2013-2014  University Teaching Qualification (BKO) (VU).
2011           Course Writing a Scientific Article (Talencentrum VU)
2008           Training in qualitative research methods (Kwalon, UvH)                 
2008           Course in English Writing (Dagnall-institute)
2005-2006  Teaching Qualification HBO (UvA)
2003           Training in quantitative and qualitative research methods (RUG)
1999           Courses in Social Work for Victims (Slachtofferhulp)
Additional Appointments/ Academic Memberships
Director of International Reformed Theological Institute (IRTI) at VU/ PThU, Amsterdam, since 2015 (from 2012-2015 Vice-Director)
Member of the American Academy of Religion (AAR), since 2018
Member of the Society for the Study of Christian Ethics (SSCE), since 2014
Member of the Society of Christian Ethics (SCE), since 2010
Member of The Association for Moral Education (AME), 2009-2012
Member and secretary of the working group Theological Ethics (part of the Dutch Research School of Philosophy OZSW), since 2006
Member of Vzw Redactieraad Kierkegaard Werken, since 2006
Member of the Advisory Council of the Institute of Cultural Ethics (ICE, the Netherlands), since 2006
Member of the Council of School Identity, Christian high school Gomaruscollege, Groningen, 2008-2016
Member of the Council of Lectorates on Identity and Education, at PCO Besturenraad, 2006-2012
Member of the Council of Lectorates of Education in the Netherlands, 2006-2012
Editorial Work
Member Editorial Board of Studies in Reformed Theology (Brill Leiden), since 2013
Editor of the quarterly journal Kerk en theologie, since 2013
Editor of Søren Kierkegaard Werken (Damon, translation of Kierkegaard's Writings in Dutch), since 2006
Editor of the magazine Beweging, from 2006, and since 2011 renamed as Sophie
Editor of the book series Cahier, ForumC, 2005-2017