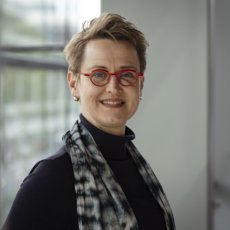 Dr. Mirella C.M. Klomp
Associate Professor of Practical Theology
Mirella Klomp is a Dutch protestant (Lutheran) theologian, specializing in Practical Theology, more specifically in Ritual and Liturgical Studies. Her field of expertise lies at the intersection of lived religion and culture, and at the interface between the sacred and the secular. Research topics of interest have been liturgy and music in intercultural contexts, music in the public sphere (esp. Passion performances) as well as rituals and ritualized practices of and around food and meals. Her research is characterized by a thoroughgoing interdisciplinary approach.
Klomp holds a PhD from the Protestant Theological University (2009), and completed the degree of 'Habilitation' at the Faculty of Theology of the University of Bern, Switzerland (2020).
She currently works as Associate Professor (Universitair Hoofddocent) of Practical Theology at the Protestant Theological University in Amsterdam, with specialisation in Liturgical and Ritual Studies. She  coordinates the work of the Amsterdam Network for Interdisciplinary Studies on Eating, and serves on the board of the Institute for Ritual and Liturgical Studies.
Among her expertise:
practical theology and methodology
materiality in religious ritual (relating to body, earth, food, meals, music)
public theology
ritual and Christian music in Dutch late-modern network culture
The Passion and other contemporary passion performances
religion and media
suffering and illness from a theological perspective
21st century Lutheran theology
international and migrant churches in Amsterdam Southeast
Christian worship in Ghanaian culture
Mirella Klomp has been an ordained minister in the Protestant Church in the Netherlands since 2012.