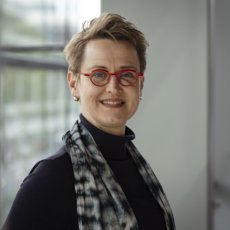 Dr. Mirella C.M. Klomp
Associate Professor of Practical Theology
Mirella Klomp (the Netherlands, 1979) is an Associate Professor of Practical Theology, specialising in Ritual and Liturgical Studies. Rituality, music, food/meals, and the body are her main research interests. She is an acclaimed expert on 'The Passion' and other contemporary Passions staged in the public sphere in the Netherlands.
Mirella Klomp studied theology at VU University in Amsterdam and the Evangelical-Lutheran Seminary in Utrecht (MA 2005). She continued her studies at VU University (MRes with distinction 2006), meanwhile preparing a research proposal for her PhD studies.
During her PhD studies (2006-2008), she specialized in liturgical ethnography, conducting qualitative empirical research on the sound of worship in two migrant churches in Amsterdam. She took her PhD from the Protestant Theological University (2009). Her dissertation The Sound of Worship was published as the 26th volume of the internationally renowned Liturgia Condenda Series (Leuven: Peeters Publishers, 2011).
Afterwards she worked as a post-doc researcher in the Department of Culture Studies of Tilburg University, focusing on ritual-musical practices in the public domain (2010-2012). Again, she engaged in extensive ethnographic fieldwork, focusing on 'The Passion' and other contemporary Passion performances in concert halls and on city squares.
She returned to PThU in 2013 as senior researcher with her project Passio resurrexit, became a research fellow at the Faculty of Theology at the University of Pretoria, South-Africa in 2014, and was appointed as Assistant Professor in Practical Theology at PThU. She was the academic coordinator of the Institute for Ritual and Liturgical Studies between 2015-2021. the In 2018 she obtained her University Teaching Certificate.
In 2020, she published her second monograph, Playing On. Restaging the Passion after the Death of God, an Open Access publication on 'the quest for God after the death of God' in the groundbreaking book series Theology in Practice of Royal Brill. With this book manuscript she also completed the degree of "Habilitation" at the Theological Faculty of the University of Bern (Switzerland).
Klomp was ordained a minister in the Protestant Church in the Netherlands in 2012.