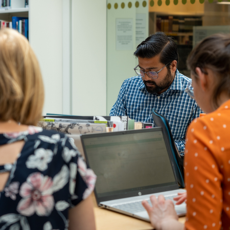 Master of Theology
Are you preparing for a teaching ministry or doctoral studies in Theology? PThU offers a one-year, English-taught Master of Theology programme. Come and enjoy the combination of a climate of academic excellence and the great atmosphere in our home right in the centre of the lively university city of Groningen. With students from all over the world, our accredited programme offers you a truly international and intercultural academic experience. 
Study in brief:

Location

Groningen, The Netherlands

Grade

Master of Arts

Duration

1 year

Form

Fulltime

Language

English

Start date

September

Application date

1 April (outside of EU / EER / Switzerland)
1 May (EU / EER / Switzerland)

Tracks

Living Texts, Thinking God Interculturally, Ethics of Dignity, Missional Communities

Accredited as

CROHO code 60264 (MA Verdieping)
The Master of Theology programme consists of two semesters. You will start with interdisciplinary courses, as well as courses dedicated to the specialised track you have chosen. Your second semester is fully dedicated to your specialisation, including  methodology, specialisation courses, literature study and a master thesis. 
What you can expect
Academic tracks within the programme

Do you prefer ethics or intercultural theology? Are you an aspiring biblical scholar or missiologist? As a student within the PThU Theology Master programme, you'll select one of four academic tracks before starting your studies: 

Application

Do you want to study theology with us? You can apply online for the 2023-2024 academic year from 1 November.

Application deadline for students from outside the EU, EEA or Switzerland: 1 April 2023. 
Application deadline for students from the European Union, EEA or Switzerland: 1 May 2023.

Admission requirements

You can apply for the Master of Theology if you meet all of the following conditions: 

You have a Bachelor's degree in Theology or a related field. Your degree has been awarded by an accredited university. The comparability of your degree will verified by consulting distinctive independent sources.
You can provide us with the results of an English language proficiency test. Exemptions are in place for native speakers of English and inhabitants of countries where English is the only official language.
You fulfil the requirements for the academic track in which you wish to participate. 

Costs

At this moment the tuition fees for the academic year 2022-2023 are still unknown. These will become available later this year. (Tuition fees for the 2021-2022 academic year were € 2.168 if you are a citizen of the EU, EEA, Turkey or Surinam. If you are a citizen from any other country, your tuition fee in 2021-2022 was € 3.996.)

You can choose one of these options for payment:

Pay the entire tuition before the start of the academic year
Pay the tuition in ten monthly instalments.

Note that next to your tuition, other costs are involved. As a foreign individual staying in The Netherlands, you should take into account administrative fees, costs of living, and various other costs, like health insurance and travel costs. 

Scholarships

Have you already applied for admission to the Master of Theology programme at PThU? Several scholarships are available for students:

Other scholarships may be available. You can find more information on the website of the Netherlands Organization for International Co-operation in Higher Education (NUFFIC).

Academic staff

Joining the programme as an exchange student

Do you want to study Theology at the PThU in Amsterdam or Groningen as an exchange student? And does your home university have an official exchange agreement with the PThU? If so, you can apply for a student exchange period at the Protestant Theological University. As an exchange student you do not need to pay a tuition fee at the PThU, but you will continue to pay tuition at your home institution. Credits earned at PThU will be recognised at your home institution, after completing your exchange period. Exchange periods can be 2.5 months, a semester or a full academic year.

Are you interested in an exchange year at the Protestant Theological University in the Netherlands? It is important to know that the university only offers English-taught courses at a master's level. For that reason we only accept applications from master students (or from bachelor students with a sufficient command of Dutch). Exchange students can choose to study in Groningen or Amsterdam during the first semester (September – January) or for a full academic year (only in Groningen).

Increase your English writing skills

Worried about your level of English? The PThU offers all our international students the possibility of following the Academic Writing Course during the first weeks of their master. In this seven week course, you will focus on academic writing and structuring of a thesis. The course is offered by our partner Rijksuniversiteit Groningen.

Living in Groningen

Where are you going to live while studying at PThU? What does it mean to study abroad? What do you need to arrange in terms of visa, insurance, tuition? Read more about student housing and life in Groningen in general.

International Student Housing: Life @ Casa Mundo 1:45

COVID-19 and studying at PThU

The Netherlands currently has no corona measures in effect. Travellers from inside the EU and Schengen countries are allowed to travel freely to and from the Netherlands. An EU entry ban is in effect for people from countries outside the European Union/Schengen area. There are exemptions to the entry ban. Please check the government website to see what rules apply to you.
Intercultural theology
The International Master provides a great entry point into Western theology and culture for students from Asia, Africa and Latin America. We are well equipped to help you build a bridge between your own context and the European Academy. For the same reason, a number of European and other students from the West have chosen this particular one year programme because it provides an exposure to other expressions of World Christianity and intercultural theology. We love to help you deepen the three-way conversation between your own context and its challenges, Western theology, and the Christian Scriptures and tradition.  
Questions about the programme? Contact a student advisor
Questions about registration and admission? Contact our office