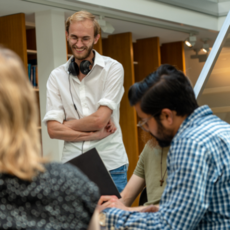 Exchange programme
Do you want to study abroad as an exchange student at a master's level? And does your home university have an official arrangement with our university? If so, you can apply for a student exchange period at the Groningen location of the Protestant Theological University. You must apply before 1 July.
How it works
You can choose to study in Groningen during the first semester (September – January) or for a full academic year. As an exchange student you do not need to pay a tuition fee at the PThU; instead you will continue to pay tuition at your home institution. Credits earned at PThU will be recognised at your home institution, after completing your exchange period. We offer English-taught master-level courses at our campus in Groningen.
We only accept applications from master students (for our English-taught Master of Theology courses) or from bachelor students with a sufficient command of Dutch (for our bachelor courses). 
How to apply
If your university is an exchange partner of the PThU you can apply for a study abroad period at the International Office of your home university.
After you have been selected for an exchange to Groningen, the international coordinator / exchange officer of your university will nominate you as a candidate.
Based on your nomination you are provisionally accepted as an exchange student at the PThU. The International Officer will send you an application form. You will need to send your application together with the following documents to the International Officer of PThU, Mr. A.S. Nijboer (a.s.nijboer@pthu.nl):

a Learning Agreement (only for Erasmus students, provided by your home university)
a study proposal, including the courses you wish to follow at PThU (not applicable for Erasmus students)
an official academic transcript, in English, showing credits and grades obtained so far
a motivation letter in English (300 words)
an English language certificate
a copy of your Bachelor's degree
a copy of your passport or EU identity card
digital passport photo

After receiving your application form and attached documents, we will send you your 'letter of acceptance' by e-mail and register you as an exchange student at the PThU.
The dean of students will contact you regarding your learning agreement or study proposal.
Before arriving to Groningen, you will also need to send a copy of a health insurance policy or European Health Insurance Card (EHIC) to the international officer of PThU.