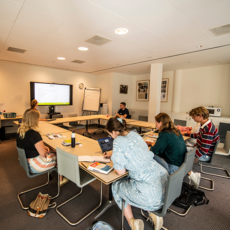 Seminars
Are you pursuing a master's degree at the PThU? Or are you a master student at another university? Or are you an alumnus, pastor or other interested party? You can partake in a PThU seminar. 
Practical information
All seminars are offered in semester 1. You can take seminars in period 1 (September to November) or period 2 (November to January). To register for one of the seminars, please contact our admissions office.
Seminars period 1
Seminars period 2
Christian Social Service in Europe

Practical information

Level: master
Size: 7,5 ECTS
Language: Engels
Lecture day: Friday
Location: Amsterdam

Description

The seminar is about diaconal work in Europe, or faith based work for social justice, social care and inclusion for all people, especially for people in the most vulnerable situations in society. All Christian diakonia is meant to create a space for new breathing, for liberation, for dignity and for comfort which allows for the regenerating of life.

Diaconal work, often referred to as Christian Social Work, used to have in Europe a close relationship with churches and ecclesiastical practices. In recent decades most of these Christian inspired activities and organisations developed themselves as (semi-)independent NGO's, still working by the same mission of enhancing human dignity, initiating and supporting actions that contribute to social justice and inclusion. Diaconal services in diverse European countries show remarkable differences in shape, expression, financial sources, and in their relation to church, state and other NGO's.

This seminar has a focus on the identity of Diakonia as a contextual practice. It includes the following topics:

theological foundations and outlooks on Diakonia in Europe
the position of diaconal work in society 
the ethics of the diaconal practice with an emphasis on the dynamics of power within relations of care

The Hebrew Bible in its ancient Near Eastern context

Practical information

Level: master
Size: 7,5 ECTS
Language: English
Lecture day: Friday
Location: Amsterdam

Description

The Bible forms part of the broad literature of the ancient Near East, as is shown by many biblical references to customs, laws, religious concepts, and so on, that were common in the context of the Bible. Of course, our growing knowledge of ancient Near Eastern thinking has its consequences for biblical exegesis and the way in which the Bible can be used in systematic theology, preaching, and so on.

In this course, students will get insight into important theological themes in the Bible that also play an important role in non-biblical texts from the ancient Near East (for instance Creation, Providence, Evil and the Devil, Morals, Covenant, Prayer, Sickness and Healing). Especially the correspondences and differences will be analysed, as well as the theological consequences for biblical and systematic theology.

Students will write a final paper in which they compare a passage or a theme from the Hebrew Bible with relevant non-biblical texts from the ancient Near East. Knowledge of biblical Hebrew is recommendable. A basic introduction to Ugaritic is optional. The analysis of non-biblical texts is done on the basis of English translations.

Translating the Bible: Exegetical, Historical and Practical Perspectives

Practical information

Level: master
Size: 7,5 ECTS
Language: English
Lecture day: Wednesday
Location: Groningen

Description

Translating the Bible is an art, a craft and a lifestyle that is performed consciously or unconsciously on many levels every time when individuals or communities of faith take the Bible into consideration in their life and their work. From this overarching perspective and basic experience we choose two fields for a deep study of the divers dimensions involved.

The course consists of two parts:

an exegetical and hermeneutical part devoted to problems of translating individual biblical texts from their original language into modern languages (taught by Annette Merz) and
a church historical part devoted to Abraham Kuypers vision of translating the Bible into Christian action in a modern, democratic context (taught by Gert van Klinken).

Besides the lessons given by the main lecturers we will have the opportunity to profit from expert knowledge provided by guest speakers (professional Bible translators and prof. Hans-Georg Ulrichs, an expert on Kuyper) and will explore the visible traces of Kuypers ideas in the urban landscape of Groningen on an seminar excursion. Students will follow all seminars and take a written take home exam on the content of both parts (counting 40%), they give a presentation (20%) and write a paper in one area (Old/New Testament or Church History: 40%).

Biblical Part: Translating the Bible: Art and Craft

The history, theory and practice of translating the Bible will be treated from several angles, by studying and discussing selected chapters from the books of Wilt and Noss and some additional reading (provided in a reader) and by discussing student's work of translation and comparison of different translations of Biblical Texts. Students will keep a logbook with own translations of Bible passages into English or Dutch using different theories of translation and translating for different target groups and contexts (e.g. congregational service, Sunday school, general public, exegetical paper). At the end of the course they will be able to compare their own translations to distinct published translations and reflect on hermeneutical, exegetical, and practical questions that are related to the translation process in general and relevant to the chosen passage in particular.

Church-historical part: Abraham Kuyper: Translating the Bible into Christian Action

Reading the Bible belongs to the central phenomena in Church history. The aim may be described as an effort to translate the Hebrew and Greek texts of Scripture into a proper understanding of the original context, that is also able to shape Christian life in the present. But how can words, written down so many centuries ago, remain viable and inspiring? This question marks the starting point for a series of lectures by the Dutch Reformed theologian Abraham Kuyper, delivered at Princeton University (USA) in 1898. As a Calvinist with an active interest in the development of contemporary church, science and politics, Kuyper is very much aware of the fact that recent developments in these areas pose a challenge for the exegesis and application of the Biblical message. Yet he remains convinced of the vital possibility, perhaps even necessity, of rejuvenating modern society by the application of central tenets of a Protestant worldview based on Scripture. Proper exegesis, in Kuyper's view, will always be followed by a comprehensive program of translating the Bible into Christian action.

The first of the Princeton lectures discusses Calvinism as a Life System, based on Biblical notions of the relationship between God and man. The following lectures discourse on Calvinism and Religion (Biblical notions: sin and redemption, priesthood of believers), Calvinism and Politics (Biblical notion: sovereignty of God), Calvinism and Science (Biblical notion: providence), Calvinism and Art (Biblical notion: creation) and Calvinism and the Future (Biblical notion: covenant).

While critics argue that Kuyper, in his desire to translate Biblical notions into a viable program for Christian action in modern democratic context, tries to achieve the impossible, his ideas still offer inspiration for many. Background information on Kuyper is provided by James Bratt (USA), while German pastor and theologian Hans-Georg Ulrichs affirms the inspirational value of Kuyper's Princeton lectures in a volume in 2019. Ulrichs will be available to join a life discussion with students of this course via a Zoom connection. The original text of Kuyper's Lectures on Calvinism is widely available via the Internet and in recent international editions.

Ethics of dignity

Practical information

Level: master
Size: 7,5 ECTS
Language: English
Lecture day: Wednesday
Location: Groningen and Amsterdam

Description

In this course we will start with an historical, conceptual and theological exploration of the concept of human dignity. We analyse different meanings and uses, such as:

dignity as merit
dignity as an inalienable right
dignity as the capacity for self-determination and autonomy
dignity as human flourishing

We will relate these views to theological views on human dignity. Along two lines we will elaborate on this theoretical exploration:

along the line of the relationship between dignity and human rights including the debate on the historical and systematic foundation of both concepts in the Christian tradition
along the line of the role human dignity plays within end-of life decisions and debates, starting from the debates on euthanasia in the Netherlands, again including theological positions within this debate

In a third step we bring the different elements of this course together and make an effort to formulate a 'politics of care'. All students can contribute from their own contexts to a theologically valid justification of care for the dignity of vulnerable people and to the ways these can be shaped in various, religiously plural, political contexts.

New Ecclesial Communities

Practical information

Level: master
Size: 7,5 ECTS
Language: English
Lecture day: Friday
Location: Groningen

Description

We study and discuss different views on mission, based on the works of Moynagh and Hoekendijk.

During the first part of the course we will engage in close reading of texts of these theologians, tracing their views on mission, church and the world in their different historical contexts.

The second part of our course has a strong empirical component, where we will study new forms of developing church. Informed by different views on mission, diakonia and ecclesiology, students will visit a new ecclesial community (for example a pioneer church, diaconal initiative, church plant) and conduct interviews and do observations.

The field work and theoretical perspectives will be evaluated and discussed in class.

Theology of Interreligious Encounter and Witness

Practical information

Level: master
Size: 7,5 ECTS
Language: English
Lecture day: Friday
Location: Groningen

Description

In this course, we will explore recent theological developments in the theology of religions in so far as they as they have a bearing on the possibilities and praxis of intercultural encounter, learning and witness and life together. Specific attention will be given to the question of the finality of the revelation of God in Christ, the role of the Spirit and a spirituality that allows for confidence and openness and 'prophetic dialogue'. We will study some of the challenges of interreligious encounter with specific examples in view, particularly, but not exclusively with Islam. We will also discuss the implications of new phenomena such as dual religious belonging and so-called insider movements for interreligious encounter and witness. A final area of attention will relate to the political and social challenges of living together in religiously pluralist societies.

The Spirit as guide: Pneumatology and Spirituality

Practical information

Level: master
Size: 7,5 ECTS
Language: English
Lecture day: Wednesday
Location: Groningen

Description

The study of spiritual practices combines two dimensions.

Anthropologically, these practices concern human interactions, individual experiences and cultural expressions.
Theologically, spiritual practices are about God's Spirit and the presence of the Spirit in these cultural expressions and human interactions.

In this course we study spiritual practices according to these two dimensions. The first line in the course consists of the reconstruction of the pneumatological dimensions in three recent theologies from different cultural backgrounds in order to understand the relationship between cultures and the presence of the Spirit. The second line concerns the empirical study of spiritual practices according to participative and comparative methods. These practices are selected biographically and culturally.

The course is research based and we aim to discover:

how recent theologies of the Spirit interact with spiritual practices
how this contributes to further understanding the interface of pneumatology and culture.

During the course students work towards a scholarly article on the interface of pneumatology and culture, by studying concrete examples of spiritual practices. In the classes we create a setting of a 'writing workshop' with methodical contributions on research and writing and theological content on pneumatology and spirituality.