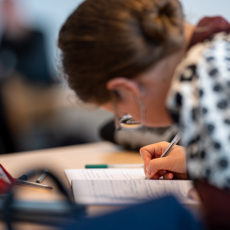 Application procedure
You can register for our English-taught Master of Theology programme by following the application procedure listed below. Applications will reopen on 1 November 2023. Please read the full information on this page. Unsure if you can apply for this programme? Check our admission requirements first.
How to apply
The application process consists of the following steps.
Click or tap the plus next to each step to learn more.
Step 1: Gather all necessary documents

Before applying, make sure you have the following documents ready in PDF format: 

a copy of your passport ID page
a picture of yourself (passport picture) - maximum size: 150 KB
a copy of your degree certificate(s) - in English or a certified English translation
a copy of your academic transcript(s) of records - in English or a certified English translation
an up-to-date curriculum vitae
an abstract of your thesis or final project (of most recent study programme). The abstract should be written in English and should have a maximum of 3 pages
a motivation letter (maximum of 500-600 words): describe how the study programme could add to your work and life experience. What will be the added value? How will the programme benefit your career? Please clarify your motivation
two reference letters. Reference letters should include information about the author: personal data, academic background and address. They should also include your name and personal data. Ask the author to include his or her field of specialisation. Letters should include references to your intellectual strengths and academic capacities (ask authors to be as specific as possible) and the added value of the programme for your professional future, and/or that of the organisation
if applicable: an English language proficiency test score report. The following tests are accepted: TOEFL, IELTS, TOEIC, or Cambridge. Please read the English-language requirements on our application page for all information on this subject.
if applicable: a proof of a sufficient level of Greek (for New Testament studies) or Hebrew (for Old Testament studies). Please read the educational requirements on our application page for all information on this subject.

Step 2: Complete the application via Studielink and Osiris

You can only apply via the Studielink portal using the button below. (If you haven't used Studielink before, please download the Studielink instructions.)

After registration, the portal will send you through to Osiris Aanmelding (Osiris Admissions programme). Please make sure you follow all of the required steps. Once you have completed the steps, we will be able to process your application. After completing your registration in Osiris, you will be able to use the programme to track the progress of your application.

Confirmation email

After you have submitted your online form, you will receive a confirmation email. If you haven't received your confirmation email, please check your spam box. If you don't find your confirmation email there, contact us at admissions@pthu.nl.

I want to also apply for a scholarship

Do you need a scholarship to attend the programme? The scholarship application procedure runs independent from the procedure for admission to the Master of Theology programme. Students who apply for one of the available scholarships should simultaneously apply for admission to the Master of Theology programme. Please check the scholarship page to learn more about the procedure and requirements for the scholarship you wish to apply for.

Step 3: Complete the assignment we send you

The assignment will be send by email in April/May. This consists of an academic article with questions you must answer. You must complete the assigment and send it back within 10 days after you received the email. Completed assignments can be sent to admissions@pthu.nl.

Step 4: Your application is checked and verified

After we have received your application, the Student Affairs Desk will collect your application files and check if they are complete. If the application is incomplete, a Student Affairs Desk employee will contact you to complete the application as soon as possible.

After the submission deadline has passed, we will send your degrees and academic transcripts to be verified by an external agency. Your application will then be sent to the Admissions Board.

Step 5: Your application is accepted or rejected

The Admissions Board will decide if you are accepted into the master's programme. The Admissions Board will send you an email before 1 June to let you know if you have been accepted or rejected.

If your application is rejected, the Admissions Board will always let you know why, so you can reapply in the future.
If you are accepted,  you can be conditionally or provisionally  admitted. The letter you receive will tell you which steps to take next. 

It's after 1 June, but I have not received a letter from the Board

Still haven't received a letter from the Admissions Board? Please check your spam box regularly for emails sent by toelatingscommissie@pthu.nl. 

Step 6: Your requested scholarship is awarded or denied

Have you requested a scholarship? The decision on the allocation of scholarships is taken by the Board of the University after the admissions decision of the Admissions Board. You will be informed about the decision of the University Board around 1 June.

Step 7: If you are conditionally or provisionally admitted

I have been conditionally admitted

Being conditionally admitted to the Master's programme means your application is incomplete. You will need to add information to your application file. The Admissions Board will let you know what is missing from your file. You will not be officially admitted until all requirements are met. However, you can already apply for a visa, and organise your tuition payment. How you do this, can be found below under 'I have been provisionally admitted'. 

I have been provisionally admitted

If you are provisionally admitted, this means the PThU has accepted you as a student. This means you can take the following steps.

1. You should apply for a visa or residence permit, if you are a non-EU/EEA student

In the first weeks of June, you will be contacted by the Immigration Service Desk of the University of Groningen, our academic partner to which we have outsourced the visa procedure. You will be asked to send them the relevant documents for visa and residence permit application.

2. You should provide proof of sufficient financial means 

One of the requirements for a visa is a proof of sufficient financial means. This should normally be a scholarship letter or a grant agreement. If you don't have such a letter, you will be asked to transfer the total amount of minimally required funds (for living and accommodation) to the bank account of the University of Groningen. The full amount will be transferred to your Dutch bank account after arriving in the Netherlands.

3. You should pay your tuition fees 

To complete your registration as a student, you will need to transfer the tuition fees to the account of the Protestant Theological University. 

You will receive an invitation from Studielink to upload your payment details. Please check the Studielink manual for instructions, if needed.
Questions?
For questions related to the application procedure, please contact our Admissions Office: admissions@pthu.nl.