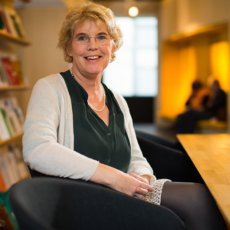 Prof. dr. H.E. Zorgdrager
Professor
Intercultural theology / missiology
Prof. dr. Heleen Zorgdrager
Chair of Systematic Theology and Genderstudies
Personal introduction 
Welcome on my personal webpage. Nice that you show an interest in my academic work. I teach systematic theology and genderstudies at the Protestant Theological University in Amsterdam and am the Chair of the department Intercultural Theology and Missiology.
My courses at PThU in 2022-2023 are on "Saved, not yet Safe: Gender, Christian Religion and Community in Context", "Worship" (classes on liturgy and gender, and on Eastern-Orthodox liturgy), "Sexuality and Gender in Bible and Society", and 'Research Laboratory".
Besides being a professor at PThU, it is a pleasure and privilege to be a visiting professor to the Institute of Ecumenical Studies, Ukrainian Catholic University in Lviv, Ukraine, where I teach mainly on ecumenical theology.
The areas of my current research are:
Theology, gender, transgender, sexuality, sexual diversity : debates and developments in the Netherlands and in Eastern Europe
Public/political theology

public theology responding to Russia's war against Ukraine
public theology responding to (Christian) natonalism and populism
public theology adressing legacies of slavery and colonialism
I am part of the research team of the NWO-financed project "Church and Slavery in the Dutch Empire: History, Theology, and Heritage" and of the international  research group "Orthodox Kaleidoscope" (on the study of lived Orthodoxy). 
I welcome potential Ma and PhD students, both from the Netherlands and abroad, especially those interested in iintersectional research on ecumenical/intercultural theology, systematic/political theology, and on topics such as gender, sexuality, legacies of slavery and colonialism, post-Soviet societies and church. Please, feel free to contact me with your ideas and proposals (hezorgdrager@pthu.nl).
Short CV
I received my formation as a theologian in Kampen (NL) and Lutherstadt Wittenberg (former German Democratic Republic). My doctoral thesis was on Schleiermacher and the meaning of gender in his writings. I practiced in the church as a student's chaplain in Leiden and as pastor of the Reformed church in Leersum. From 2005-2010, I followed the call for an international responsibility as a program manager of Kerk in Actie, Protestant Church in the Netherlands, in the field of mission and ecumenical cooperation in Central and Eastern Europe. Part of the job was teaching at the Institute of Ecumenical Studies in Lviv, Ukraine - it has become my second home base. Since 2010, I belong to the staff of the Protestant Theological University, initially in Leiden and from 2012 in Amsterdam.
To share my passions with others, I contribute as an active member to
Published at KokBoekencentrum, June 2019: Wondermooi, zoals U mij gemaakt hebt. Handreiking voor gelovige transgender personen en werkers in de kerk.
Published at Vallentine Mitchell, January 2017:The Jews of Lemberg; A Journey to Empty Places