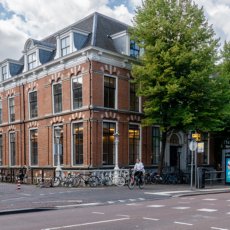 We are the PThU
We are the PThU, the Protestant Theological University. We use our theological knowledge and experience to inspire and renew the church, science and society. We feel compelled by the Gospel of Jesus Christ and the mission God has with Israel and the nations. We are nourished by our Protestant roots. And that is the theology we stand for.
Education
Our education is in line with students' needs. Theological formation concerns the whole person. Our education has an integral character. We strengthen the cohesion between theory and practice and ensure a seamless transition from study to the professional workfield or scientific research.
Research
We do excellent research that there is a need for. Our theological research is internationally highly qualified. Central in our research are the questions posed to us by church, academy and society. In our research we work with universities, scientific institutes and churches at home and abroad.
Valorisation
Our theology is valuable to others. We are experts in our field and are glad to make our knowledge and experience available. As a university, we're not here for ourselves. Our Knowledge Center brings supply and demand together in an inspiring way, for those who want to deepen and enrich themselves theologically.
Organisation
To inspire and renew church, academy and society, we are guided by four core values. Our theology is deeply rooted, broadly oriented, sharp-minded and rich in spirituality. Our mission is attainable if we have an inclusive and diverse organisational culture with attention for everyone's qualities and with opportunities to develop them further.
Founded in 2007
The PThU was created in 2007 when three existing universities merged into one. The members of the Supervisory Board are appointed by the synod of the Protestant Church in the Netherlands. In this way, the PThU knows itself connected to the Church.