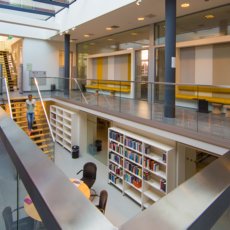 Library
The PThU library provides scientific information to students and staff by offering various study and research facilities. The library is the central point for searching and finding (digital) scientific information.
Study workplaces only available for international students 
From 16 December 2020 only international students are permitted to use study places in the reading rooms. Want to pick up or return books? Make an appointment and fill in this Appointment Form. 
Read the message Use of study workplaces on location for further instruction. Need help? Contact the library.
Corona and library services
Due to the corona outbreak, the PThU University library provides most of her services digitally. However, you might need materials from PThU's physical collection. To request those materials, you can now use a form. Library staff will then contact you to see how you can gain access to this literature in a safe and simple way. Please note: only visit our location if you have made an appointment. Without an appointment we are not able to help you or provide access to the building.
The PThU Library is open online! Send us an email at library@pthu.nl.