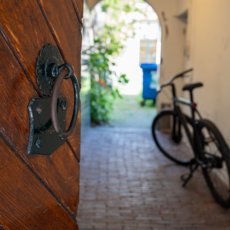 Mission and vision
We are the PThU. The Protestant Theological University. Connected with the Protestant Church in the Netherlands, we investigate the contribution of Scripture, Christian traditions and faith practices to finding meaning, justice and salvation.
From this passion, we educate people to become theologians in the role of church pastor, chaplain, academic researcher or theological entrepreneur. People who, like us, are both deeply rooted and broadly oriented, sharp-minded and rich in spirituality. People who can help others with life questions such as: who am I, where do I come from and how do I lead a good life?
We believe. And because we believe, we want to increase our knowledge.
With our nationally and internationally highly qualified research, we seek answers to the current and timeless questions that church, academy and society pose to us. We do this alongside various national and international universities, scientific institutes and churches.
We use our theological knowledge and experience to inspire and renew church, science and society. From our knowledge center we guide theologians in their daily practice with refresher courses and advice.
We search for wisdom. We are the PThU.