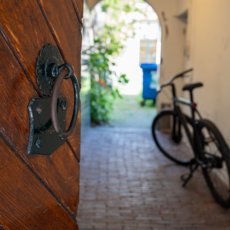 Mission and vision
What is our mission and vision as Protestant Theological University (PThU)?
Mission
The Protestant Theological University specialises in the theological study of the Christian faith in view of the interaction between sources and contemporary formation.
The theology practiced at the PThU is rooted in the Protestant tradition, paying special attention to the interplay between religion and socio-cultural contexts.
The University is the official institution for the education and training of ministers of the Protestant Church in the Netherlands and has two locations (Amsterdam and Groningen), each with their own approach.
The PThU aims to be a prominent university centre for Protestant theology that is self-conscious, critical and flexible in its response to the changes taking place in the areas of faith, church and world Christianity.
Vision
Involved
Staff and students:
are passionate about their involvement in church and society
can account for a personal involvement with the Christian tradition in their scientific practice
create an inspiring and challenging learning and research environment, showing enthusiasm and ambition
Challenging
The PThU offers a challenging:
learning environment which provides students with an inspiring course of study and personal coaching, inviting contemporary theological practice
theological research profile and doctoral programs nationally and internationally recognized and acknowledged
Ambitious
The PThU aspires to:
make leading national and international contributions to the academic practice of theology
practice theology that fulfils an inspiring function in church and society
contribute to the progress and renewal of the practice of theology in the Protestant Church in the Netherlands
The PThU sets itself the following tasks
the academic formation of a new generation of theologians
educating ministers to be theologically and professionally able
educating men and women for leadership positions in organisations and theological fields where expertise is relevant
educating a new generation of researchers
doing fundamental and practice-oriented research concerning faith, church and religion
contributing to the proper functioning of religious communities in their social and cultural contexts
contributing to reflection on the role of religion in contemporary society
providing postgraduate education for ministers and other professionals
providing social services in the field of religion and society