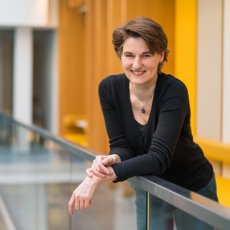 Dr. P.E.M. Meijers
Curriculum vitae
Journalistic work (selection)
2011- 2017  Member Editorial Board Green European Journal.
2007- 2017 Editor-in-chief De Helling, quarterly for politics and culture.
2011- 2013 Columnist 'de Andere Wereld', IKON radio.
2005-2007 Freelance journalist for Radio and Printmedia.
1993 - 2001 Editor, moderator, director and editor-in-chief  weekly newsprogramme 'De Andere Wereld van Zondagmorgen'  IKONradio. 
Other (selection)
2007-  2017 Member of staff  Bureau de Helling, Dutch Green Foundation.
2000- 2005     Teacher Contextual Theology at TVG Amsterdam.
1999-2004      Researcher at the Theological University Kampen, department history and  missiology. 
1996 - 1998     Secretary/ coordinator for the project 'church network protestant Europe' for the Leuenberg Church Fellowship. (based in Basle, Switzerland)
Education 
2008 PhD Theology at Protestantse Theological University Kampen.
2001 Examination for the admission to the Protestant Church of the Netherlands as a minister.
2000 Examination ecclesiastical Institute of the Netherlands Reformed Church with a thesis on the West-African Theologian Mercy Amba Oduyoye.
1993-19944 Courses at the Media Academy Hilversum.
1990 Master Theology University of Amsterdam (Cum laude) Thesis: Karl Barth and Novalis.
1988 - 1989 Study Theology and History in Strasbourg.