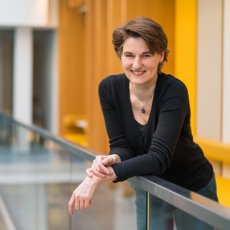 Dr. P.E.M. Meijers
Erica Meijers began working at the PThU in september 2017; in 2018 she was ordained as a minister for the Dutch Protestant Church. Before, she worked as a journalist for radio and print media and as a researcher and organiser in the political arena and the public forum. She has studied and lived in Amsterdam, Strasbourg, Berlin and Basel.
Erica Meijers is currently working in the field of Diaconal Studies. She did a Phd on the debate on apartheid in the Netherlands, at the intersection of Missiology and the History of Christianism in the 20th Century. Her research interests are: Racisme and the history of Slavery, Urban Theology and Food, Eucharist and Table Fellowship (as part of theology and ecology).
"I like to cross borders, combining different disciplines, languages and genres.  Diaconal studies is about just that: connecting different worlds with a keen eye for the perspective of those who often go unnoticed."