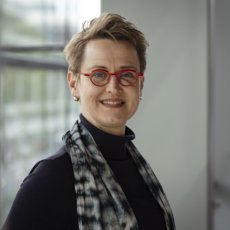 Dr. habil. Mirella Klomp
Associate Professor of Practical Theology
Academic membership
Board Member of the Institute for Ritual and Liturgical Studies (IRiLiS; PThU), since 2021
Member of Societas Liturgica, An International Society for Liturgical Study and Renewal, since 2011 

Member of Council: 2013-2017
Treasurer and European Secretary: 2015-2017

Member of the International Academy of Practical Theology, since 2020.
Research Associate of resp. prof. Cas Wepener and prof. Yolanda Dreyer at the Research Unit Practical Theology, University of Pretoria, South Africa, since 2014.
Senior member of the Netherlands School for Advanced Studies in Theology and Religion (NOSTER), since 2010.
Editorial boards
Member of the editorial board of Liturgia Condenda (international series published by Peeters Publishers, Leuven/Paris/Walpole MA), since 2015
Member of the editorial board of Yearbook for Ritual and Liturgical Studies/Jaarboek voor Liturgie-onderzoek (Amsterdam/Groningen), since 2015
Member of the editorial board of Netherlands Studies in Ritual and Liturgy (Amsterdam/Groningen), since 2015
Societal and ecclesial organizations
Member of the General Advisory Board to the General Synod of the Protestant Church in the Netherlands
Member of the board of trustees of Stadsklooster Mariken in Nijmegen, since 2019
Interim chair of the Prof. Dr G. van der Leeuw Foundation: Meeting Centre for Church and the Arts, 2012-2013
Member of the Liturgy Chamber of the Prof. Dr G. van der Leeuw Foundation: Meeting Centre for Church and the Arts, 2009-2013
Managing secretary of the editorial board for the Church Book of the Protestant Church in the Netherlands and its editorial board (Dienstboek – een proeve), 2001-2004