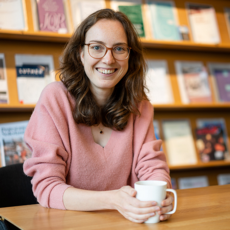 dr. J. Rondaij
Assistant professor Practical Theology
 Joyce Rondaij is assistant professor in practical theology at the PThU. She focuses on how literary writings reflect on what it means to be human, in relation to God. In her research she brings literature, theology and philosophy into conversation with each other to study various themes. She is also interested in the methodological reflection on the relationship between theology and the arts.
She studied theology at Utrecht University (BA) and the Protestant Theological University (MA). She also studied in Italy (Italian language and Jewish postwar literature) in preparation of her dissertation on Primo Levi, focused on the question how to speak about humanity and God after Auschwitz. In October 2020 she defended her PhD-thesis "Primo Levi's Afters. Theologically Reading Primo Levi after God" in which she combined theology, philosophy and literary studies to enhance the understanding of Levi's oeuvre. The Dutch edition, "Primo Levi na God. Verhalen van een nieuwe Bijbel", is published by Uitgeverij Verbum in June 2021. She is currently working on a popular book on Primo Levi.
Joyce is president of the university council of the PThU and leads church services in the Protestant Church in the Netherlands. She was editor of the literary journal Liter from 2015-2019. From 2020-2023 she worked as Grants Officer at the PThU.