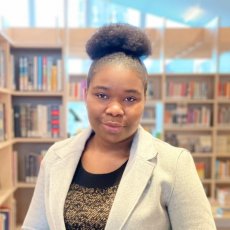 Student ambassador Concilence Alfin Ojiambo
In 2005 when I was only nine years old, my mother took ill. I was to care for her as my elder siblings tried to fend for us. Every minute I watched her cry in pain. Her suffering pushed me to ask questions regarding faith. I wondered why God had allowed suffering. I started talking to God out of anger and frustration. Little did I know I was praying. I realised many people suffer, and I needed to seek answers. Since then, it has been my drive to be able to see and acknowledge the suffering of others and try to respond to them, with the help of God.
A church for men and women, young and old
I applied to do the one-year international master at the PThU amidst the Corona pandemic, when everything was at standstill. I didn't envision getting admitted or getting a full scholarship to pursue my studies. Nevertheless, I tried, and it worked. In my Master's thesis, I sought to bring the voice of teenage girls to discussions pertaining to their sexuality. Currently, in my PhD research I am focused on the violence meted out against elderly women and the role of spirituality in coping with or dealing with this ugly reality. It is all part of my dedication to make the church home for both men and women, by challenging the patriarchal hierarchy that downplays women's leadership roles, by making sure our youth are noticed and heard, and by ensuring the elderly in the church are given a place to ensure their wellbeing.
The right decision
Ever made the right decision in life? Yes, PThU was the right decision that I made in 2020, and years down the line, I haven't regretted it one bit. Where to start: the International office under the great leadership of Mr. Albert Nijboer was helpful from the start. He offered me guidance regarding the visa application process, general information in the Netherlands, bike renting, housing, and possible flights to take given the Corona restrictions then, among others. Most importantly, he responded to all the impromptu emails I sent to clarify one thing or the other. The administration desk and the professors are great! Did you know that I could even inquire about a great restaurant to dine in? Perhaps I should also tell you that the professors give me space to express myself; my opinion matters. How great, right? 
The ratio of professors to students is great, the International office is superb, the administration desk is great, the librarians are great, and there is a free English course and correction of the thesis. Also, PThU now has student mentors to help ease students' stay in Groningen. They give information regarding registration at the municipality, opening bank accounts, touring the city, picking up from the train station, and keeping up academically.
Staying at Casa Mundo
My stay at Casa Mundo, the international student convivium, was the best. To have friends who were family is something I couldn't trade for anything else. Here, we shared meals during house evenings, disagreed respectfully, shared laughs, celebrated each other on their big days and success, stood with each other at our lowest, prayed together, and had fun. Who wouldn't want this in a foreign country? Studying away from home could be at times worrying. The thought of missing family and only sharing moments virtually with them can be draining; but then, there was Casa Mundo. The experience of warmth in Casa Mundo made Groningen a home away from home.