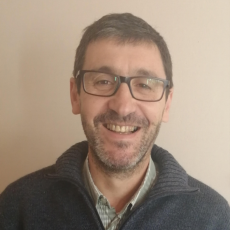 Participant experiences: Darío Barolin (2000)
In 2000, Darío Barolin participated in the Bridging Gaps program. At that time, Darío just started a PhD research in Old Testament studies on a narrative reading of Exodus 32-34. He was born in Argentina and has moved to Uruguay fifteen years ago. He currently works as a pastor in the Waldensian church in Uruguay, as executive secretary of the Alliance of Presbyterian and Reformed Churches in Latin America (AIRPAL), and as a teacher in Old Testament at the local seminary (previously at the ecumenical seminary in Buenos Aires).
Abroad in a predigital era
The Bridging Gaps program was a unique opportunity for Darío to start his PhD.  He was one of the oldest participants of his year. He was already married and had a one-year-old son. He recalls that it was not easy for him to live in Amsterdam at the time. Nowadays, there are many ways to contact loved ones abroad, but in 2000 this was not possible.
I do not recommend to go away for three months when your child is one year old. That was the worst part of my experience. After twenty years, I still remember his face when we saw each other again. He did not recognise me anymore. Then, I promised to never leave again for three months.
I remember that there was a fellow participant from India in Bridging Gaps. In 2000 he was already talking about virtual churches. He did research on how the church engages with the internet. He was truly a prophet at that time.
Darío thinks that the experience of living with an intercultural group in Amsterdam would be very different now, because of digitalisation and globalisation. Nowadays, it is easier to be exposed to different cultures; the world seems to be a smaller place. However, for some experiences one still needs to travel:
I think the non-academic parts were also very important. Every Sunday we had the opportunity to meet others. At that time, the services in English were a disaster and mostly conservative. So, I went to the Spanish mass and the Catholic priest there helped me to understand many things in Amsterdam. With the Spanish priest we visited places of illegal prostitution, where we met people from many places around the world. We also went to downtown Amsterdam where people live illegally, so that was also very powerful.
Cross-cultural work
For Darío, Bridging Gaps was a powerful experience that helped him to work in different contexts through the course of his life.
Getting the opportunity of being a student in an intercultural setting is quite enriching. At that time, I did not have any responsibility for others, even though I am a person who tries to take care of everyone. I especially remember trying to always be on time with Philip Peacock (one of the other participants, red.). We are still friends. I have kept very close contact with Philip until now. But that was a time for me to learn, to be a student. I did not have to provide answers. It was just a learning experience. Because it is a learning experience, you allow yourself to live with many questions. You are more open to new things.
The experience to engage with people from different cultures has helped Darío in his work for AIRPAL, for which he needs to engage with people from different parts of the Latin American continent. These experiences are powerful, but also challenging.
When you are in an intercultural space, you cannot be certain that the other person understands what you are talking about, or that you understand what the other is talking about. You constantly need to check. Everything that you assume in a conversation with someone of the same background is not the same when you move into a different culture. That can be a frustrating experience that takes a lot of time, but it is also a learning experience. This is not only the case for intercultural meetings, but also in my context of working with different churches, that have different histories and different ways of dealing with authority. The Waldensian church is very suspicious about power. Every issue needs to be solved by dialogue. Some Presbyterian churches have a different mindset and like to hold on to their rules and guidelines. In that case, you also need to understand what is going on.
Cultural diversity: joy or burden?
In his experience with intercontextual exchange, Darío noticed the diversity of different contexts. For example, he appreciates that Dutch people were always willing to help him when he did not know his way in Amsterdam for example.
Even when I had to preach in the Northern part of the Netherlands, the elder of the church started the service in Spanish. She had taken the time to learn Spanish and they had even learnt a Spanish song. There are not many people who are willing to invest their time like that. That was wonderful.
However, Darío found out that when he wanted to help Dutch people, it was not very much appreciated.
If you ask for help, they will help you. But only if they ask you for help, you can help them. You cannot intervene in the life of the other, without being asked to do so. That for me was a great learning experience. It took a while, because I was not used to wait for people to ask for help.
Darío sees this as a sign that there is not much social control in the Netherlands. He experienced that the Netherlands is a rather open and free country, but this also has its downsides.
People can become lonely in the Netherlands, and that would not happen that easily in our society (Uruguay or Argentina, red.). There is much more social control and the sense of community is stronger. People are checking in on each other.
This is very complex. Respected freedom of the individual is very important, but when you are going through a difficult time, it is also good to have a supporting community. I would say that in certain times in our lives, we prefer aspects of the one or the other. The freedom and openness in the Netherlands can, for example, be useful when someone wants to come out of the closet.
We can influence each other in this. Our new generation is changing and becoming more open, and I think that is a good thing. Let's see if we can also influence Europe.
Economy at the heart of theology
Before studying theology, Darío was a student in economy. He recognises that the rationality of economy is rather different than the rationality of theology. He thinks that both fields can enrich each other, and that this is crucial for the future of both fields.
We need to create spaces to have a dialogue. I think economic issues are so important to discuss, because it is connected to everything in society. For example, it also plays a role in gender and race issues. Liberation theology was born because this connection was made. A lot of Latin-American theologians are engaged with the issue of economy. But in mainstream theology, theologians often talk about how things should be, but do not take the basic restraints of economy into account. Economical thinking needs to become part of theological thinking.
The problem is also that often the economists do not see us as partners. But now, some of them are coming to us, because they acknowledge that the economy has lost a sense of ethics. We need to understand that the way we do theology, is the way we do economy. There is reciprocity, even if we do not make it explicit.
Everyone who is engaged with congregations in the Southern hemisphere, has to deal with the topic of economy. When I talk among colleagues, this is the most pressing issue.
We need to make this dialogue between theology and economy happen. It is a problem that is worth to further explore. Intercultural dialogue in this would also be a good step. When theologians from different parts of the world come together, this issue should be on the table.