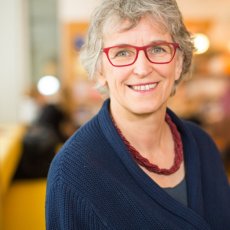 Dr. R.D.N. van Riessen
Associate Professor of Philosophy and Professor by Special Appointment of Christian Philosophy (at Leiden University)
Curriculum vitae
Renée Dirkje Neeltje van Riessen
born 24 september 1954 in Lunteren
Married, two daughters (born 1992 and 1993)
1981:  university graduate Philosophy, Vrije Universiteit Amsterdam
1979-1983: member of Researchgroup "Vrijheid en bevrijding in relatie tot de menswetenschappen" and co-editor of Vrijheid, een onderzoek naar de betekenis van vrijheid voor de methodologie van de mensweten­schappen, Amsterdam 1984.
1980-1985 lecturer in philosophy at Kunstacademie (School of Arts) in Kampen          
since 1985- senior lecturer in philosophy and philosophy of religion Kampen Theological University (part time)
1991 – Defense of Ph.D : Erotiek en dood, met het oog op transcendentie in de filosofie van Levinas;  Promotors: prof.dr. J. van der Hoeven (Free University, Amsterdam) and prof.dr. P. Moyaert (K.U. Leuven, Belgium) .                         
 From 1991 - 1999 member of the board of the Dutch "Levinas Studiekring" ; took part in the organisation of the second congress of LSK on Levinas' denken en het pluralisme in de cultuur (Levinas and cultural pluralism) in 1993.
From 1993 - 1996 : member of researchgroup  of the section Philosophy of culture and Ethics of Katholieke Theologische Universiteit Utrecht. With prof.dr. Ilse N. Bulhof I edited a book on postmodern thought and the crisis of representation:  Als woorden niets meer zeggen, de crisis rond woord en beeld in de huidige cultuur. Kampen 1995.
From 1990 – took part in the interdiscliplinary research of Protestant Theological University, Christian faith in changing contexts (Barth, Levinas, Kierkegaard and kenosis)
Between 2006-2009: Chair of researchgroup  Philosophical interpretations of Augustine
From 2011 – holds the chair for Christian Philosophy at Leyden University. As extraordinary professor she teaches courses on philosophy in relation to the Christian  and Jewish perspective (worldview); focussing on questions as the relation of finiteness and infinity; transcendence and immanence; the relation of self and other, and the art of living.