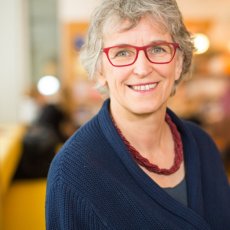 Dr. R.D.N. van Riessen
Associate Professor of Philosophy and Professor by Special Appointment of Christian Philosophy (at Leiden University)
Research interests
The first line of research concerns theories of transcendence in relation to moral, aesthetic and religious experience (Levinas, Lyotard and Agamben).
The second line concerns the philosophical perspective of the soul and/or inner life, comparing and confronting classical Christian authors like Augustine and Kierkegaard with positions in  contemporary  philosophy in the phenomenological tradition   (Levinas, Marion, Lyotard, Derrida). 
Key publications
Advancing Beyond Socrates? On Education, Inspiration and Inwardness in Kierkegaard and Levinas. Philosophia Reformata 78 (2013), No 1, 64-81.
De ziel opnieuw. Over innerlijkheid, inspiratie en onderwijs. Amsterdam: Sjibbolet 2013. 
Renée D.N. van Riessen,  Man as a Place of God, Levinas' Hermeneutics of Kenosis, Dordrecht (Springer) 2007.
Renée van Riessen (ed), Augustinus modern en postmodern gelezen, Budel (Damon) 2009.
Renée van Riessen, 'Creative Kenosis. Levinas and Christian Theology', in: Responsibility, God and Society, Theological Ethics in Dialogue, Ed. J. De Tavernier et al., Leuven/Paris/Dudley, 2008 (143-162).
Besides my academic work in philosophy I am active as a poet in the Netherlands. My poetry was published in various literary magazines, and was collected in four volumes. Most recent volume: Krekels in de keuken [Crickets in the Kitchen] Amsterdam, Prometheus 2008.