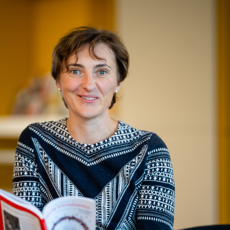 prof.dr. D. Nagy
Professor of Theology and Migration
Intercultural theology / missiology
Dr. Nagy is Professor of Theology and Migration, a theologian-missiologist with a research interest in migration studies, mission studies, ecclesiology, Christiainity in post-communist Europe, and innovative ways of theologising. Prof. Nagy is co-leading the PThU Centre for Theology and Christianity Worldwide (CTCW at https://www.ctcw.nl/)  and is President of the Central and Eastern European Association for Mission Studies (CEEAMS at https://ceeams.org/) and editor of its journal Acta Missiologiae. She is an ordained minister of the Lutheran Church. 
Prof. Nagy studied theology in Budapest, Hong Kong, and Utrecht (PhD 2008) and has been working as a theologian in many countries in Europe among others in collaboration with the University of South Africa (UNISA) and the Max Planck Society.
Prof. Nagy teaches courses on Missiology, Migration and Theology, Contextual Christology.
Recent projects
Theologising on migration in contemporary Europe
Conversion, migration policy, asylum seeking and religion
Christianity alongside slavery, slavery alongside Christianity (CASSAC): What have present forms of human exploitation and dehumanization through migration to do with the slavery?
World Christianity: an approach
Prof. Nagy  welcomes applications from potential MA and PhD students interested in studying the complexity of migration dynamics worldwide from a theological-missiological perspective. She also welcomes applications from students interested in studying questions related to Central and Eastern Europe or any issues related to the above listed projects . Prof. Nagy can be approached in English, Dutch, German, Hungarian, and Romanian. 
Publications 
See https://www.researchgate.net/profile/Dorottya_Nagy.