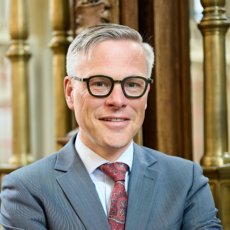 Prof. dr. A. Huijgen
Dr. Arnold Huijgen (1978) is professor of dogmatics at the PThU since 2022. He has previously published on hermeneutics, the doctrine of the Trinity, theology of Israel and the theology of Reformed Protestantism. His book Mary: Icon of grace (in Dutch, 2021) was awarded as theological book of the year 2021 in the Netherlands. He theologises on the intersections where traditional beliefs and current spirituality, church and society meet, retrieving Biblical and traditional sources for ever new contexts. His new research, entitled Inferno explores interpretations of hell and doom.
Prof. Huijgen actively interacts with society and church. He is chairman of the 'Vereniging voor Theology' (Association for Theology in the Netherlands), member of the Theological Team of Dutch newspaper Trouw, and member of supervisory boards in education and care. He regularly preaches in church services and gives lectures on various themes.