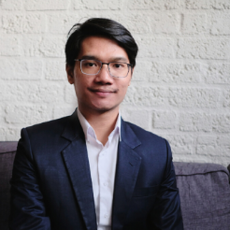 Student ambassador Haposan Cornelius Singa
I am Haposan Cornelius Sinaga, a former student of HKBP Theological Seminary, with one year experience as General Chairman of the Student Committee. I am a lifelong learner who has recently graduated cum laude from the one-year master's programme at the Protestant Theological University.
Why did I choose PThU?
The PThU international master's programme inspires and encourages me to hone my analytical skills by asking critical questions, weighing up different types of information and finally taking a stand for myself based on relevant and reliable arguments. Each course is so intriguing and exciting. It is not just about memorising and getting a good grade, but about evaluating how each course stands up and resonates in most of the aspects of my life. We should not be surprised that comparing grades - which some students usually do in Indonesia - will not necessarily occur here.
There will be course evaluations which give students an opportunity to give their feedback and evaluation on how the courses could improve over time. It shows how important the students are and how the professors, the students, and the whole civitas academica of PThU work together as valuable resources. I am very thankful to be guided and taught by thoughtful and excellent teachers, especially my supervisor, dr. Marjo Korpel, who has earnestly guided and supported me since the start of my studies here.
Living in Groningen, The Netherlands
The Netherlands is an amazing place to study. Er gaat niets boven Groningen! Nothing tops Groningen! It truly embodies its status as an international student city. The locals are very friendly and they too, speak English. So language hardly acts as a barrier here. The city offers almost everything I need. This makes studying and living here becomes more enjoyable. I totally recommend international students to study here and experience abundant benefits of it. Studying here may turn to be a once in a lifetime opportunity and for that I will always be grateful.  
If I can be of any further assistance, feel free to contact me.