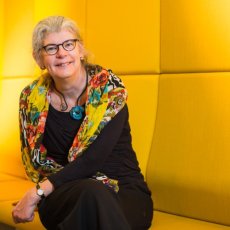 Dr. A.C. Mulder
Internship lecturer and Assistant Professor of Women's and Gender Studies Theology
Anne-Claire Mulder is Stagedocente and UD (associate professor) for Women's and Genderstudies Theology at the PThU-Groningen.
Anne-Claire Mulder finished her study theology at the Utrecht University in 1986 and worked at the Utrecht University as a coordinator of the Interfacultaire Werkgroep Vrouwenstudies (1987-1989), as research assistant at the University of Amsterdam (1989-1994) and the Dominicaans Studiecentrum voor Theologie en Samenleving (www.dsts.nl) (1994-1999), and as post-doc at the Utrecht University (2001-2005).
In 2000 she defended her PhD at the UvA – Divine Flesh, Embodied Word. Incarnation as a hermeuntical key to a feminist theologian's reading of Luce Irigary's work. (published by Amsterdam University Press in 2006).
From 2003 until today she works as UD for Women's and Gender Studies Theology at the Protestant Theolgical University, first in Kampen and since 2012 in Groningen.
From 2012 onwards she is also stagedocente at the PThU in Groningen. As stagedocente she coordinates the traineeships of the students who are training for the Ministry in the Protestant Church of the Netherlands and/or for Spoiritual Care, and she coaches these students during their traineeships.
Research interests
Her research interests are:
Processes of attribution of religious authority and the role of gender in these processes
Envisioning church communities as communities of equals where irreducible difference is respected
Feminist envisionings of the good life – (in cooperation with a group of German speaking theoreticians)
Previous research projects
Reflections on human digntiy and domestic violence
Conditions of possibilty of encountering the irreducibly different other
Anne-Claire Mulder is member of the European Society of Women in Theological Research and contactperson of the Dutch section of this society. She is also secretary of the board of the Stichting Catharina Halkesfonds and from 2008-2014 she was secretary of the board of the Stichting Kerk en Wereld.