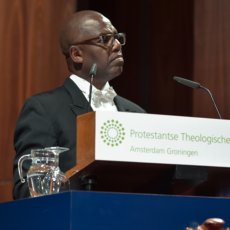 Funding your PhD
The costs of a PhD programme consist of application costs for the (Initial) Graduate School education, guidance, IT facilities and library services. These costs are € 2,650 per year. In order to pay for these costs, there are a few possibilities. Most (prospective) PhD candidates bear the costs themselves, sometimes with the help of a scholarship or other form of funding.
PhD in the employ of PThU
One of the ways to fund your PhD programme, is by becoming a PhD in the employ of PThU. However, there is a limited number of contract PhD's. Competition for these spots are fierce. To see if there are PhD vacancies available, you can visit our website under 'Vacancies'.
International (prospective) PhD candidates
To make it easier for international (prospective) PhD candidates to follow the PhD programme at PThU, we have developed the so-called 'sandwich model'. This means you spend two or three months a year doing fulltime research at the PThU in Amsterdam or Groningen. During the rest of the year, you combine your research with your work in your home country.
Several internationals scholarships and funding is available for doctoral candidates.
Want to know more about international opportunities and scholarships? 
Contact our International Officer.