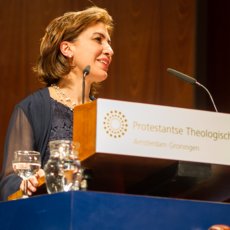 Apply as prospective PhD candidate
The Initial Graduate School is step 2 in PThU's PhD programme, after attaining a master's degree. In this step, you apply as a prospective PhD candidate via the application form. For the coming academic year (starting in September), you must apply at the latest on 1 January (students from outside the EU, EEA or Switzerland) or 1 May (EU, EEA or Swiss students and current international Master of Theology students).
What do you need to apply?
To be able to apply, you will need a number of documents. You can upload these into the application from. You will need:
a short research proposal of two to five pages, that aligns with one of PThU's research fields (Sources, Beliefs, Practices). This research proposal will be used to evaluate whether you are able to present a valid idea, but in consultation with your promotor the proposal may be changed significantly. Before you are signed up for the Initial Graduate School, your supervisor will be able to indicate whether s/he expects to be able to work with you in the area you have indicated or whether a significant change of focus is to be expected
a reference letter. This letter is by preference written by the supervisor of your master's thesis
The master's thesis. If it is more than seven years ago you finished your master's thesis, you can upload a more recent academic text
your resume 
a copy of your master's degree. If your master's degree was issued by an institution outside of the Netherlands, you will also need a copy of your passport. We will use this to check if your degree is equivalent to a Dutch master's degree
if possible, a promotor for your research. This is a full professor at PThU. Send your research proposal to one of our full professors and ask them if they would like to supervise you. 
Where to go from here?
After you have completed and sent the form, the PThU admissions board will decide whether or not you can be admitted to the Initial Graduate School. You will be informed of their decision ten weeks after the registration deadline at the latest.
Are you in possession of a foreign diploma or a non-EER nationality? We will also contact you about visa and accommodations, possible transcripts or a translation.