Opening Photo Exhibition 'Theology without Borders'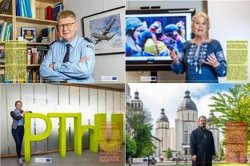 On behalf of our dean, prof. dr. Mechteld Jansen, we warmly welcome you to the opening of the Theology without Borders photo exhibition. This expositon focuses on the partnership between the Ukrainian Catholic University Lviv and the Protestant Theological Uiversity. A partnership which is co-financed by the Erasmus+ Programme.
What does such a partnership looks like? Lecturers from both countries teach at each others' universities, and students from both universities can spend part of their studies abroad. Particularly exciting in the cooperation between UCU and PThU is, for example, the exchange on training programmes for Military Chaplaincy Care.
The exhibition shows the partnership programme's participants and tells their stories.
You are warmly invited to be present at the opening, Thursday February 6 at 15.30 H at the Protestant Theological University in Amsterdam. Vsevolod Chentsov, the Ambassador of Ukraine in The Netherlands, will open the exhibition. Musical ensemble Raduzhnaya will perform Ukrainian folksongs. If you wish to attend, please send an email to communicatie@pthu.nl.
We are looking forward meeting you!
Practical Information

Date: February 6, 2020
Time: 15.30 H
Venue: Protestant Theological University, VU Building, De Boelelaan 1105, 1081 HV Amsterdam