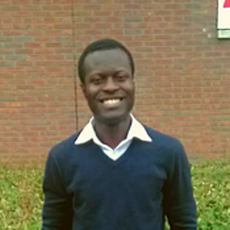 Student ambassador Bismark Agyapong
I am Bismark Agyapong, a Ghanaian and a 2019-2020 graduate from the International Master's programme in Theology (in-depth). I started my academic journey in the natural sciences, but my quest for theological truth soon set me on the trajectory of theological education.
Why did I choose PThU?
Some time ago, I pursued a theological education in Germany and that created a deeper longing for theological inquiries. In view of this, I began searching for theological universities that could meet that longing. This brought me to the Protestant Theological University, among the many options I had.
Studying at PThU is one of the best theological educations I could ever possibly think of. The international master's programme offers insightful theological perspectives and is relevant to any theological questions students might possibly ask. Here at PThU, professors are very affable. Their rich teaching methods encourage students to be open and to participate in theological reflections. I followed the study track called 'Thinking God Interculturally'. As part of this track, I was in a student exchange at one of the leading universities in the world. There, the cumulative wealth of academic resources I had gained from PThU could match, and even outmatch, any other international student.
Living in Groningen, The Netherlands
Groningen is a beautiful city with a multinational and diverse population. Integration is quite spontaneous, since everyone here speaks English confidently. Also, nearly everything students might need for living and pastime are available within Groningen. What may be of interest to you: I learned how to ride a bicycle more confidently in Groningen in just few days. And I must say that I am really enjoying this adventure.
I suppose there is not enough time to say all I want to about PThU. For further enquiries, please feel free to contact me.