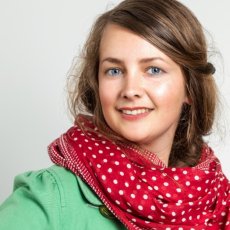 Participant experiences: Nadiia Sybira (2010)
In 2010, Nadiia Sybira participated in the Bridging Gaps program. She was born in Ukraine and is now enrolled in a two-year program on interreligious dialogue at the Cardinal Bea Centre for Judaic Studies in Rome. Since 2010, she has completed her Master's degree in Theology at the Ukrainian Catholic University in Lviv. In addition, she has worked as a English and French teacher, and a tourist guide in Lviv. Besides, she is involved in the Taizé network.
Going to the Netherlands
Until the 1990s, Ukraine has been part of the Soviet Union, in which religion was oppressed. Nadiia grew up in a society that was opening itself to religion again.
People my age think it's cool to go to church. Everyone goes to church dressed up in traditional clothes every week. When you don't go to church, you need to have a really good reason. This is the society and form of Christianity in which I grew up. I assumed that the rest of Europe would be similar, because I thought that Europe is Christian.
Participating in the Bridging Gaps program was Nadiia's first experience of living outside of Ukraine. In Amsterdam, she saw a very different society with people from different confessions.
The Bridging Gaps group was mostly Protestant. It was interesting for me to see how the others practiced their faith. Also, some of the local people I met were agnostic. The conversations with them were very important to me, because they were the first people who ever asked me why I am a Christian. This forced me to think about questions such as "what is my faith?" and "what do I believe?" These questions were provocative, but very crucial to ask myself.
Nadiia also noticed that when Dutch people achieve something, it is perceived to be self-made. They do not acknowledge God's role in this, as people in Ukraine would do.
God created the earth and then the Dutch created the Netherlands. Every time that something bad happens to people in Ukraine, they will go to pray in the church. In the Netherlands there is a good social safety net, and people do not pray in these circumstances. In the Netherlands, the church has another role in society. The church does not only serve as a space for prayer, but also organises many other activities. It was strange for me to see that and I was shocked to see that some churches were turning into museums for instance. However, it was also a very good experience to see more possible roles for a church in society.
My stay in Amsterdam and the Bridging Gaps program were also a process of maturation; before that I had only encountered religion in my Greek-Catholic tradition, or the broader Byzantine tradition. Being in Amsterdam really opened my eyes to new ways of living faith, and spirituality. So, it was a very good start of my ecumenical and international journey.
Ecumenical travelling
Nadiia is curious to learn about other cultures, confessions and religions. She thinks this is an important way to learn about others and their faith, and about yourself.
Because of the Bridging Gaps program, I met Protestant believers who taught me about the importance of the Bible. In my confession, tradition is very important. And for the Protestants, Sola Scriptura, the book is very important. That was the first step in meeting believers who are so attached to the Holy Scripture.
Nadiia did not only have this learning experience with Protestant believers, but also with Pentecostals.
I went to Crossroads in Amstelveen, because I wanted to attend a young English-speaking church. Those were not easy to find at the time. The worship there was such a beautiful prayer. Through their use of music and their band, I discovered a new way of praying. It is not always during the Mass or in another traditional way. Prayer can be worship when you praise and sing, when you can dance. Your whole body can pray to God, like when David danced. I think we can learn from each other in this way and borrow these small things to enrich our faith.
Nadiia's interest in other confessions and cultures is also visible in her involvement in Taizé.
Taizé is an ecumenical melting pot for Europe, but also for the rest of the world. For me it is very enriching, and I can feel the Holy Spirit in this place where 2000 people pray together. That is fantastic. Taizé goes hand in hand with my spirituality. In Taizé meetings, elements of different confessions are present, so that people from all confessions can feel comfortable. No confession is oppressing the other. There is a beautiful balance.
Prayers are central to Nadiia's ecumenical and international work. It encourages her to look beyond religious boundaries:
When ecumenical and intercultural meetings work through prayer, we can also take the next step to include other religions. Why can't we pray with Muslims, Jews, and people who practice other religions? Taizé inspired me to get involved in these international and interreligious activities, and Bridging Gaps was my first mature step in this journey.
Church and conflict
Ukraine is in a violent conflict with Russia since 2014. Nadiia grew up in Western Ukraine, and the conflict is in the East. Still Nadia lost many friends, because men of her age have to serve in the army.
For what? We don't know who our enemy is. The people we are fighting, don't wear any uniform. They say that they are locals. However, no locals live there anymore, for the place has been a battleground for many years now. Many of my friends died there for Ukraine and the war is still not over. It is hard that we don't know the truth. Jesus said, the truth will set you free, but now we don't know what the truth is. We don't know why this happens and who our enemy is.
Nadiia also explains how religion plays a role in the conflict.
My region is mainly Greek Catholic, but the rest of Ukraine is mainly Orthodox. Many people who belong to the Russian Orthodox church felt oppressed in recent years. Ukrainians would say that people who attend this church support our oppressor, because they give them money. Because of the conflict there was so much social pressure that many people converted. They became members of the Ukrainian Orthodox church or the Catholic church. So, there is oppression, even though we believe in the same God and all our confessions belong to the Byzantine tradition. The conflict has separated us.
Nadiia also recognises how churches can play a role in working towards peace.
We are not certain about the future of Ukraine. We can only pray. In my city we organise ecumenical prayers every month, following Taizé's initiative of the Pilgrimage of Trust. Every time we visit a different church, for example the Orthodox, Protestant or Catholic church. I believe that miracles can happen through this invitation for common prayer. We try to unite people through this prayer; to grow in this peaceful environment. My name, Nadiia, means hope. My hope is that I can be a peacemaker. I want to create an environment in which people can come, share and pray together.
Tourism
I work as a tourist guide in my city. It is important to me to show our culture to people from other parts of the world, because our city is very ecumenical. We have Catholics, Protestants, Arminians, Orthodox, and Jews. Tourist that come to Lviv are very diverse. Sometimes they know nothing about faith and I am the first person to tell them about Jesus. It could also be a missionary activity. I believe that travelling opens your eyes for different ways of practicing faith. God is one and God speaks in different languages, so that we can all understand.